& Ben Schuneman
3/4 of the Parker Quartet with their GRAMMYs
GRAMMY! A fair number of people are nominated for GRAMMYs. Not that many people win one. Even fewer GRAMMY winners are from or are based in Minnesota. (Well, OK, Bob Dylan has a few under his belt.) In Classical Music, The Saint Paul Chamber Orchestra was awarded a GRAMMY in 1980. And in 2011, the dynamic Parker Quartet was awarded the GRAMMY for Best Chamber Music Performance!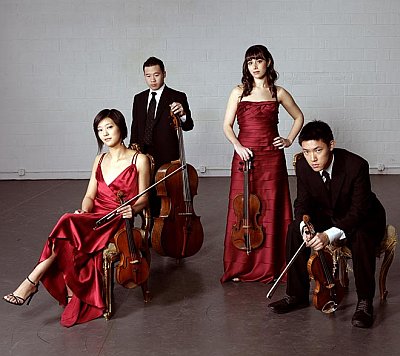 The Parker Quartet

These four New England Conservatory graduates have taken masterful music performance to the Twin Cities area and to the whole world with their concerts.




The group is composed of Daniel Chong and Karen Kim on violin, Jessica Bodner on viola, and Kee-Hyun Kim on cello. Each musician has a wonderful expertise with music and with their respective instruments. They all earned

graduate degrees in performance and chamber music from the New England Conservatory of Music and were part of the New England Conservatory's prestigious Professional String Quartet Training Program.

The Parker Quartet was the resident quartet with the Saint Paul Chamber Orchestra (SPCO) from 2008-2010 and were the Artists-in-Residence with Minnesota Public Radio from 2009-2010. In 2009, the group performed at the Library of Congress, and even used the Stradivarius instruments that were donated to the library by Gertrude Whittall in 1935. This year, they will be

coaching chamber music students

at the University of Minnesota and the University of St Thomas. All this practice and expertise really adds up to one fantastic performance!
Stradivarius Instruments at the Library of Congress
The Parker Quartet plays Bartok
The group not only presents a flawless performance, but they also really show emotion with their playing. Watching the videos on their site, it's easy to see how they became Grammy winning musicians. My favorite part of their whole performance wasn't necessarily the music (although that was close), but it was the expressions each musician displayed throughout the pieces, which was especially seen in their rendition of Bartok's Str
ing Quartet No. 1. They legitimately seem excited for every new note that was on the page. The energy was high, and you can see the musicians scowl, smile, or frown based on the emotional content of the piece. Being that emotionally attached to music that you have practiced hundred of times is incredibly difficult to accomplish. Saying that, these four show an immense love for the music that they perform by the emotional energy they add with every performance.
In addition to their European and national tours this year, the group will continue to play within the Twin Cities area. Partnering with the Saint Paul chamber Orchestra, the quartet is launching
All Hearts Listen
,
a series of six performances in Minneapolis and St. Paul. The performances are spread throughout the year, opening on the first of November in Minneapolis. Go hear them!
The Parker Quartet
Music trivia: Where did the quartet get the name "Parker"?