Written by Andy Fein, luthier at
Fein Violins
and Kevin Berdine
A long time ago, an elderly woman brought in a violin she wanted to sell. Like many old violins, this one had a story. When she was a girl, her family had owned movie theaters during the silent movie era. They hired musicians to play music during the movie. One musician, a violinist, stayed with her family until about 1933. One day in 1933, he just disappeared. He took almost all his belongings, but he left this violin under his bed. Since that day, no one had played the violin. I opened up the case and there was a beautifully made violin with a wonderful varnish. It was made by F.O. Stanley in Newton, Massachusetts in the year 1889. The top was made from Spruce that looked very similar to Spruce on Cremonese instruments from the same era. The Maple on the back, though, reminded me of European Maple I had seen on the dashboard of an early automobile, a "Stanley Steamer". Strange, but this is a strange business.
A Stanley Steamer Automobile
I purchased the violin, set it up, and played it. Wow! It was one of the best sounding violins I ever heard or played. And that includes many great Cremonese instruments! Who was this guy, F.O. Stanley?
The birth of our nation, the invention of the x-ray, the invention of the 2-cylinder "Stanley Steamer" engine, and the making of violins were all associated with the Stanley family. Their industriousness has left a permanent impression upon the world.
The first violin maker of the Stanley family was born in New England (Maine) in 1776. Any guesses what his parents named him? If you guessed Liberty, you were right. An apt selection for the year that witnessed the birth of our nation. Liberty made a limited number of violins and basses which exhibit fine workmanship. Liberty was the grandfather of Carlton Stanley, and the uncle to Freelan Oscar and Francis Edgar Stanley.
Twins, F.E. and F.O. Stanley, in a Stanley Stick Runabout
F.O. Stanley
F.E. Stanley
"Stanley Steamer" before and after accident
Twin Brothers, Freelan and Francis, both began making instruments as youngsters. Using a jackknife, Freelan made his first violin at the age of 10. After making the instrument, he taught himself to play it. At 16 the luthier bug caught up with him again and he made 2 more violins, of which one earned him $10 upon selling it. After selling an instrument, he considered adopting violin making as his career, but, instead, decided to keep it as an expensive hobby business, with his brother, while he worked as an inventor. Although it was not his sole career, he did make trips to Cremona and Germany to purchase quality wood to feed his hobby. His inventing career has made a tremendous mark on the world as we know it. He invented a focusing mechanism for X-ray machines. With his twin brother, Francis, they co-invented a photo drying process which George Eastman, of Kodak-Eastman, purchased the rights. Together, the brothers, became best-known for the "Stanley Steamer," an automobile driven by a 2-cylinder, steam-powered engine. The brothers invented together and ran their hobby instrument factory together. Their instruments exhibit a great tonal warmth and power. Their earliest instruments, although fine sounding, appear to have a sprayed on varnish.
Stanley 2-Cylinder Steamer
1942 Carlton Stanley Violin
Carlton F. Stanley, born in Newton, MA, studied violin making while working for his uncles, Freelan and Francis. He is the most prolific maker of his family having made over 500 instruments during his lifetime. His instruments were generally built on a Stradivari pattern, although he did venture out and copy Guarneri and Guadagnini a few times. One of his more known instruments is called the "Mertzanoff" Stradivari, which was named after a businessman/amateur violin maker who discovered that Stradivari's instruments are built upon the Golden Ratio. For this instrument he "Wesmeraged" the wood. This secret process, as recounted in the September, 1943
Popular Science
magazine (page 106), ages green wood more quickly than waiting the traditional 10-30 years for wood to dry. This process was co-discovered by and named for Jack Westall, a violinist, of Asheville, NC and Mertzanoff. Carlton Stanley's instruments were in high demand, thus Wurlitzer (at the time, the largest violin shop in the U.S.) ordered his instruments en masse, in the white (without varnish), and then proceeded to varnish them with Louis Condax's varnish recipe by Roy Morgan. Interestingly enough, Carlton sold two of his violins to Henry Ford-perhaps coincidence, perhaps there is a connection to the "Stanley Steamer."
Nikki Engstrom is a fine fiddler that plays on not one, but three different
Stanley violins.
Jim Hinckley has written a wonderful article on the Stanley twins,
"Two Heads Are Better Than One"
.
And now, for the strangest part of the story of the Stanley violins and Andy--
Several years ago, I was visiting my family in Colorado. My brother brought the family up to Estes Park to eat lunch at the Stanley Hotel. I turned the corner and there was a Stanley Steamer automobile, and behind that, a portrait of one of the Stanley violin makers at his workbench. "Hey! I know these guys! Or at least, I know their violins," I said. After lunch, I called the shop back in St. Paul to say I was at the Stanley hotel and to see how things were going. My assistant said, "Great, we just sold the Stanley violin!" "Hmmm, strange", I said, "I'm at the Stanley Hotel in Estes Park". My assistant paused, then said. "Well, this is a strange business."
F.O Stanley Violin, that got sold on that day.



Back of the F.O Stanley violin.
Label of the violin.




Strange, but not nearly as spooky as 'The Shining'. Stephen King was inspired to write 'The Shining' during a stay at the Stanley Hotel.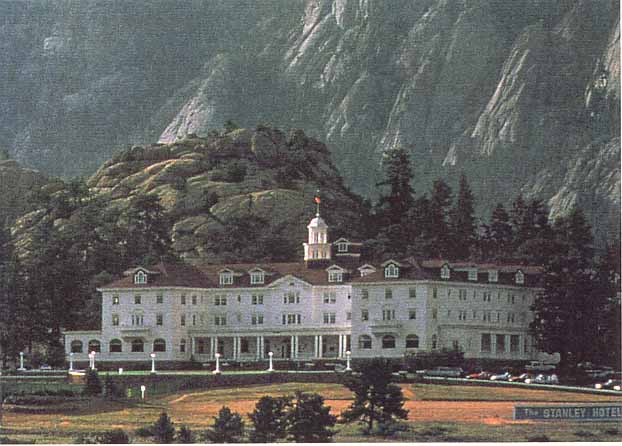 The Stanley Hotel, Estes Park, CO
Are you a violinist or interested in becoming one? Take a look at our
Fine Violins
!