By Andy Fein, violin maker at
Fein Violins
Huguette Clark passed away in 2011 at the age of 104. She spent the last twenty years of her life living in a hospital room at Beth Israel Hospital in New York City. Not that she needed the hospital room. Or the hospital. Or much attention from doctors and nurses. But she had the money to pay for the twenty year visit and that's where she felt most comfortable. Eccentric? Maybe. Wasteful? Maybe. (She could have spent those years quite comfortably in her 42 room Fifth Ave. apartment, or her estates in California or Connecticut).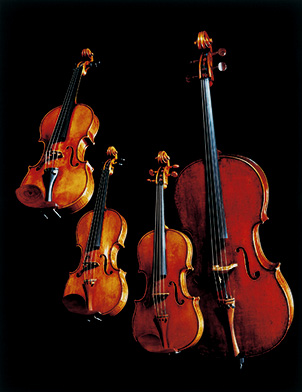 The Paganini Quartet of Stradivarius instruments
But it was her money, so who cares? Her distant family. They received a big, fat portion of
Bubkis
in her will.
Why would I care about this heiress or the legal fight over her estate? Violins, of course. Stradivaris. Several of them. And it's a great story.
My interest was piqued when I read about these battles in the 'Daily Mail'. Tabloid, I know. But I read it online (
Mail Online
). Does that elevate it? The articles came out in preparation of a new biography of Huguette Clark
,
written by Paul Clark Newell, Jr. (a distant relative) and Pulitzer Prize winning journalist Bill Dedman.
"Empty Mansions" by Bill Dedman and Paul Clark Newell, Jr.
[As it turns out, No! Reading the Mail Online gets me nowhere. Fast. Here's a quote from a very much appreciated assessment of the original version of this blog from Bill Dedman,
"Andy, I've posted a comment. on your blog. You have the story precisely backwards. No, the book does not argue that Huguette Clark suffered from a mental illness. And, no, Paul Clark Newell (not Newel), is a cousin, not in line to inherit anything, not a potential heir, not a participant in the estate contest. (He's descended from Huguette's father's sister, not from Huguette's father. If the will is thrown out, he gets nothing.)
There are other errors in your account of the story of the Paganini Quartet and Madame Cezanne, because you're cribbing clumsily from a Mail Online story that cribbed clumsily from the New York Post, which cribbed clumsily from an advance copy of our book. For starters, Huguette didn't buy the instruments -- her mother did. They didn't share an apartment. Huguette didn't bequeath a Strad to her nurse. The Cezanne portrait that Anna Clark sold is not the one pictured on your blog. You have several other errors." Hopefully, I've corrected the errors in the version you are now reading. But- Read the book when it comes out. I will!]
Stories have been circulating about Huguette's tendency for giving away money and valuables. This could be taken as a sign of mental illness, mental impairment, or dementia. And, of course, her inability to make a will "with sound mind".

An event in Huguette's life might illuminate this part of Huguette's personality. Huguette's mother, Anna E. Clark, hung a Cezanne painting in her huge Manhattan apartment. Huguette hated it and rarely came downstairs after it was hung. It stayed there until Huguette was in her late thirties.


One day in 1945, the great cellist Robert Maas visited and spoke with Anna about his desire to start a new American string quartet. Only one problem- he needed some great instruments. He knew of a quartet of Stradivarius instruments that was being sold by Emil Hermann at his shop near Carnegie Hall. It was a wonderful quartet that Niccolo Paganini had personally selected and matched so that Niccolo could play quartets with his friends. But they had to be sold as a quartet.
So, the story goes.... Anna Clark agreed to buy the Paganini Stradivarius Quartet. Anna promptly snatched the detested Cezanne painting off the wall, had her driver take her to her art dealer, sold the painting, and (on the same trip!) had her driver take her to Emil Hermann's and bought the quartet for $200,000.(
Taking inflation into account, that would be about $2,600,000 in 2013.)
Anna then gave the quartet to Robert Maas and his fellow musicians to play, with the stipulation that the instruments should never be sold separately. This was all Anna Clark's actions, but the story has been used to illustrate that Huguette learned to be frivolous with valuables.
Paganini Quartet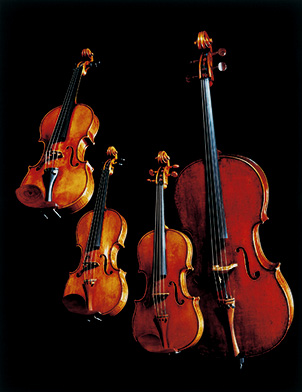 The Paganini Quartet of Stradivarius instruments
Stradivarius 1680 Violin
Paganini
Stradivarius 1727 Violin
Paganini
Stradivarius 1731 Viola
Paganini
Stradivarius 1736 Cello
Paganini
This is one of only six sets of quartets compiled with Antonio Stradivari's instruments known to exist today. All the instruments of this quartet were once owned by Niccolò Paganini, a legendary violinist during the 19th century. The Nippon Music Foundation acquired this quartet from the Corcoran Gallery of Arts in Washington, D.C. in 1994 and loans them as a set, in compliance with the will of Anna E. Clark who donated the quartet to the Corcoran Gallery.






Long-Term Loan Recipients

・Sep 1995 ‐

Tokyo String Quartet

The Tokyo String Quartet

The Paganini Quartet, circa 1948



Here is my amusement- This story is used as an example of how Huguette learned (from her mother, Anna Clark) to be impulsive and profligate with her fortune. BUT- $2.6 million for a set of matched Stradivaris from Paganini's collection? Are you kidding me??? I'd jump at the chance to buy just one of those instruments for that amount. All four? That would have to be considered the deal and steal of the century!!!
And it seems like the deal was revenue neutral for the Clarks. They sold a painting they hated and bought a wonderful quartet. The musicians of the quartet considered the Clarks their patrons for decades after. Thousands of hours of wonderful music and recordings. I'd like to encourage more people to be such wonderful benefactors! Oh, and the $200,000? The Clarks didn't seem to miss it. They stayed in their gigantic Manhattan apartment, retained all of their household staff, kept their cars and other valuables, dressed extremely well, and ate in sumptuous style.
After Anna Clark passed away, Huguette spent the rest of her life indulging herself in her hobbies and luxuries. So, it's a bit eccentric that she dressed her enormous doll collection in custom couture. But, it was her money. So what?
The Tokyo String Quartet with the Paganini Stradivarius quartet of instruments. Jealous yet?
Hear the Tokyo String Quartet play on the Paganini Stradivaris
Read more about Huguette Clark in the forthcoming book
"Empty Mansions"
by Bill Dedman and Paul Clark Newell, Jr. We're promised "never-before-seen photos", including the Cezanne that was sold by Anna Clark.
By the way, Huguette is usually pronounced "oo-GET".