by Andy Fein and Joe Peterson
Very few people have a playing life that encompasses the first Wienawski competition (1935) to the present day. Ida (pronounced Eedah) Haendel is one of the few. I wonder what she eats for breakfast? Playing recitals, solos and winning competitions since 1935, Ida is valued as a teacher and player with a treasure trove of musical experience.
At the age of 3, in 1931, Ida Haendel picked up her older sister's violin (when she wasn't supposed to: naughty,naughty!) and picked out a song that her mother had sung around the house. A few years later she was playing the Beethoven Concerto and competing against the likes of a 27 year old David Oistrakh. Here's the kicker: She claims she only played the violin 5 minutes a day. That is mindful practicing!
"Who needs practice? Not I, Ida Haendel!"
At the ripe age of 7, she won the Polish prize (7th overall) at the first Henryk Wieniawski violin competition in the year 1935. This caught the eyes of the respected teachers Carl Flesch in London, England and George Enescu in Paris, France, whom she then studied with. She was the peer of Ginette Neveu and Joseph Hassid (who was also Polish) in London, and Yehudi Menuhin in Paris.
During World War II, Ms. Haendel spent quite a bit of time touring, playing for Allied troops, and in 1940, she became a naturalized British citizen. After the war, she toured the U.S and Europe extensively, in addition to appearing in South America and Asia, making her very well known around the world. She has performed with many of the great conductors of the 20th century, and has performed at the BBC Proms 68 times.
Ida Haendel
She is a proponent of 20th century music as well, and after Sibelius heard her play his concerto on the radio, he wrote her a letter congratulating
himself
on finding such a fantastic interpreter.
Here is a video of her playing the Sibelius Concerto
. She premiered Luigi Dallapicolla's Tartiniano Seconda and Allan Pettersson's Violin Concerto No. 2.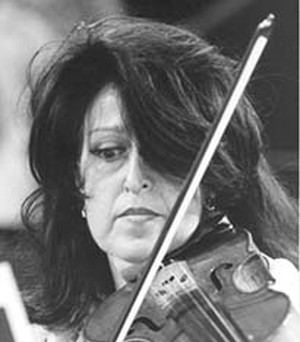 Ida Haendel
Today, Ms. Haendel lives in Miami, Florida, where she settled in 1979, with her dog Decca, named after the first label she had a contract with. She has played on the 1726 "Sleeping Beauty" Stradivarius, and currently plays on a Stradivarius made circa 1696. If you have 3 and a half hours,
here's a very interesting masterclass
she gave a couple of years ago, and
here's an interview with her
conducted by Steven Isserlis.
Here is her being interviewed
by John Suchet.
The 'Sleeping Beauty' is said to resemble the Stradivarius Milanollo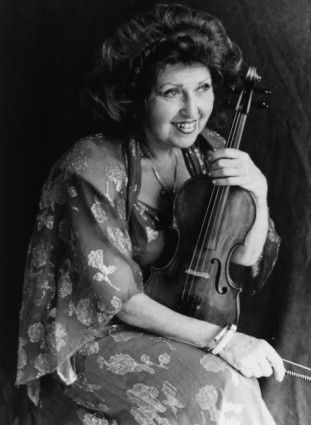 Haendel with her 1696 Stradivarius
Besides being a bridge from the mid-twentieth century schools of violin playing, Ida is also a living reminder that the world of stringed instrument soloists is not, and never has been, a strictly male domain. In each era, there have been great female string players that add their perspective and interpretation to our musical world.