By Andy Fein, luthier at
Fein Violins
and Martha McDermott
Taste in cello tone varies quite a bit, from bright to very mellow. But I've never had someone ask for cello strings that will make their cello tinny, very bright, nasally, or unfocused. So, by process of elimination, I'll assume that most players like their cellos to have a focused, somewhat mellow sound with big and responsive C and G strings.
Gautier Capucon plays with Larsen Strings
Going for that goal, and with plenty of string trials and feedback from clients, teachers, professionals and the staff at Fein Violins, we've narrowed it down to three string sets. All made by
Larsen Strings
.
The standard string that I think works best for most cellos is, not surprisingly, Larsen's standard cello strings in a medium gauge.
I can't say enough good things about these strings. Larsen has excellent quality control. The strings are responsive, centered, last a long time (most players can get at least a year of good playing out of them!), feel good under your fingers, and have a beautiful warm sound that carries with great projection. Unfortunately, they're expensive. But considering the amount of time you and your cello play music together, it's worth every cent to have good strings. The only difficulties involve distinguishing which string is which. Larsen uses the ball of the string rather than the winding to identify the string. A is brass, D is chrome, G is Copper, and C is Black. Unfortunately, under the right (or wrong!) light, the chrome, brass and copper can all look the same. To make matters even more confusing, the G string is thinner than the D due to the materials used.
If you want a little bit brighter sound without sounding tinny, the Larsen Soloist strings will give you that edge. But strangely, they only make a Soloist A, D, and G. Why that is, I have no idea.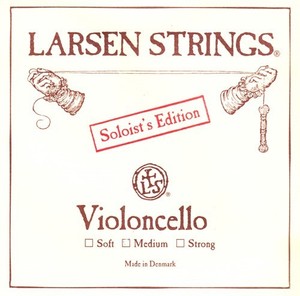 You can try using a heavy gauge Larsen C with the Soloist set, but that tends to make a lot of cellos too tinny. The standard C works just fine with the other Soloist strings.
Need to save a little money, but still want to sound good? Larsen's Crown strings are wonderful! They are by far the best sounding strings in a price range that is more affordable. They're a bit brighter than the standard Larsen strings, but still feel good under your fingers, respond well, and give nice projection.
There are less expensive string sets available. But, really, how much time, money, and effort do you spend on practicing and lessons? Isn't it worth it to you to put good strings on your cello? Of course it is!
Addendum- April 21, 2017.
We've been trying a set made by Thomastik- 'Versum' A and D and 'Spirocore' G and C. This is a great sounding sete! I think it works great for better quality cellos. They overpower middle and student range cellos, but for cellos above about $5,000, they work very, very well. The only thing I don't like about them is that for some reason Thomastik makes all of their strings slightly shorter than other manufacturers, necessitating the tailpiece be a bit closer to the bridge than with other strings.
Here's cellist Robert DeMaine talking about them and playing them on the 'General Cyd' Stradivarius cello:
Are you a violinist or interested in becoming one? Take a look at our
Fine Violins
!
Here at Fein Violins we sell a variety of strings for both violin, viola, and cello.
You can contact us about strings by calling our shop number, we are open Monday-Friday, including Saturdays and Sundays from 10am-6pm.
651-228-0783.