By Andy Fein, luthier at
Fein Violins
,
Miranda Crawford, and Martha McDermott
David Tecchler is a luthier that has long fascinated me. I first saw his work when I was an apprentice in violin making school. His work is an interesting combination of German/Tyrolean style blended with a few Italian styles. Even though he was born in Salzburg, Austria in 1666, he's generally considered an Italian maker because most of his work was done in Rome. His well loved cellos are often valued in the $1,000,000 (yes, that's one million) and up range. But if he was considered a Tyrolean maker, the vagaries of the market would knock a zero or two off of those values.
And his cellos are fantastic! Dare I say it? Some of his cellos rival Stradivarius' in terms of sound, carrying power, and refinement of tone.
Then there's his most famous cello, the 'ex-Roser', generally attributed to the year 1723, and beautifully played for many years by
Robert Cohen
. A great sounding cello! Look where the scroll should be. There's an elaborately carved head of a bearded man wearing a distinctive hat. Who.Is.That.Guy?
Robert Cohen playing his David Tecchler cello, The ex-Roser
When we first saw the 'ex-Roser' cello and began investigating the carved head, we ran into many sources that said the head is a sculpted portrait of Tecchler's employer, who lived at the Vatican. But, who was this employer? What was he doing living in the Vatican, and why did Tecchler have an employer? Most luthiers at the time worked for themselves in a shop with apprentices and journeymen, and made instruments under their own name. There are not any Tecchler instruments that are labeled as being made in another shop. So we know he wasn't working for another violin maker. Who was he working for?
Robert Cohen playing the Beethoven Sonata for Cello, No.2, in G Minor
The first clue came through an article by Swiss/Italian lutheir Claude Lebet, in which he states that Tecchler was a member of the Swiss Guards, the soldiers that were hired by the Vatican to protect the Pope and his interests. Now that makes sense! Tecchler had another job. Mercenary. Soldier for hire. In the 1700s, guarding the Vatican was not an easy job. Life, kingdoms, borders, and power were not so peaceably established as they are in our day. An officer of the Swiss Guards, someone that would be considered Tecchler's employer, would most likely live at the Vatican so that they would be close to the action and in close communication with the Vatican administration.
I wonder what Tecchler's daily routine was like? Get up, do some marching drills, firing and archery practice, and then head home to carve out a great cello or two. The advantage for Tecchler would be to combine the steady income of a mercenary with the much less dependable income of a luthier.
The second clue is sitting there right on top of the cello. The man is wearing a fairly distinctive hat. The hat is similar to the hats worn
officers of the Swiss Guard
. Similar, but not exactly the same. Was this man an officer in the Swiss Guards? A liaison between the Swiss Guards and the Vatican? Unfortunately, for now, we don't know. But I think we're on the right track. If we find out, we'll update this blog.
I don't think Tecchler did the carving of the head himself. The carving style looks far too similar to wood carving styles of many great Bavarian/Tyrolean wood carvers of the time. Luthiers are also fairly specialized. We spend our time perfecting skills in making scrolls, f holes, arching, and bass bars. Wood carved portraits are not generally in the skill set of violin makers. When a carved head was desired on an instrument, the task would usually be contracted out to a skillful wood carver.
Tecchler made several other great cellos-
The Brott-Turner Tecchler Cello, Rome 1706
Schumann Piano Quartet in E flat Major, 3rd Movement, Andante cantibile, Denis Brott playing the 1706 Tecchler cello
Brahms Cello Sonata in E Minor, Movement 1, Yehuda Hanani playing a Tecchler cello, made in Rome circa 1730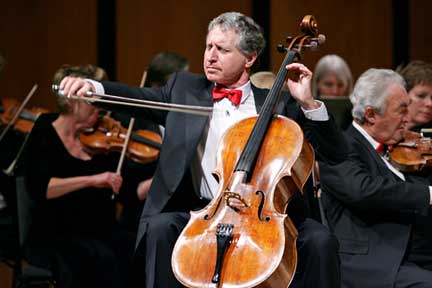 Yehuda Hanani & his 1730 Tecchler cello
Martha Babcock, of the Boston Pops and Boston Symphony, plays the 'ex-Feuermann' Tecchler cello of 1741.
Martha Babcock playing her 1741 Tecchler Cello with the Boston Pops conducted by John Williams
For further reading, 'The Strad' has an article in the September, 2014 edition on Denis Brott's Tecchler cello. The auction house
Bromptons
has published an excellent article on David Tecchler as well.
Check out our cello selection here --> at
fineviolins.com