By Andy Fein, Violin Maker & Owner, Fein Violins, Ltd.
If you have read some of my past blog posts, you probably realize I love Stradivarius violins. But it is Stradivarius' cellos that I am enamored with. I really love Stradivarius cellos. I really, really, love Stradivarius cellos.
The first Stradivarius cello I encountered is the one that has stuck in my memory for decades. The 'Braga' cello, made by Stradivarius in Cremona about 1731. The 'Braga' is currently played by the wonderful Korean cellist Myung-Wha Chung. It is one of the few cellos that was made on the smaller scale form that Stradivarius developed, the 'Forma B Piccola'. While I was in my apprenticeship in Chicago, Kenneth Warren, Sr. brought the 'Braga' cello to us to examine. I took the opportunity to spend an immense amount of time with it. OK, I fell in love with it!
Steven Isserlis and his Stradivarius cello
The Piccola part of the form name might lead you to believe that the 'Braga' and other cellos made on this form are small cellos with petite dimensions. Not quite. They are "piccola" (Italian for small) only in relation to Stradivarius' original large form cellos, which were (ah, how can I put this delicately) as big as a house and played like a truck!
Danjulo Ishizaka with the 1696 'Lord Aylesford' Stradivarius cello
The standard body length of a cello today is about 742 to 760mm (about 29 1/4" to almost 30"). Some makers make larger cellos, some smaller. There are no international laws enforcing cello dimensions.
Stradivarius' early cellos, like the 'Medici' of 1690 were built on the larger form. The Medici retains its original body length of 792mm (about 31 1/4"). Only one other of the larger Stradivarius cellos retains its large body, the 'Castelbarco' of 1699. The Castelbarco is in the collection of
The Library of Congress
. Not only do they have a long body length. They are also wide in the upper bouts, which makes it hard for many people to reach around the shoulders to play in the upper positions.
All of Stradivarius' other cellos made on the larger form have been "cut down" to more modern dimensions. A travesty in historical terms, but illustrative of how difficult the larger instruments were to play.
Rachel Mercer with the 1696 'Bonjour' Stradivarius cello
Forma B was probably developed sometime after 1700. With the 'Cristiani' cello of 1700, the body length is down to about 762mm ( about 30"). The late Bernard Greenhouse's beautiful cello, the
Paganini, Countess of Stainlein
is the first cello that seems to be clearly built on the Forma B. The body length of the ex-Greenhouse cello is about 762mm as well, but had a narrower body, a shorter string length, and the ribs were higher. So, you have a cello that has a large air volume but is much, much easier to play (particularly in higher positions!).
The 1707 'Paganini, Countess of Stainlein Stradivarius cello. With its very happy new player Stephane Tetreault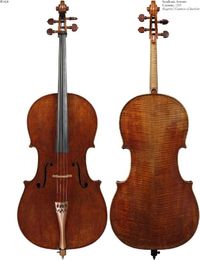 'Paganini, Countess of Stainlein Stradivarius cello, 1707
The 'Duport' Stradivarius cello of 1711
About 1726, Antonius Stradivarius (working with his sons Francesco and Omobono and probably Carlo Bergonzi, among others) developed an even smaller and more manageable cello form, Forma B Piccola. Piccola means "small" in Italian. These cellos were definitely small compared to the behemoths that Stradivarius made prior to 1700. The 'Braga' cello was made on this form. The beautiful 'De Munck' cello of 1730 was also made on this petite form.
The 'Braga' cello by Antonius Stradivarius, Cremona, circa 1731
The 'De Munck' Stradivarius cello of 1730
The nice thing about the post 1700 cellos, and particularly the Forma B Piccola cellos, is that they have remained largely original. Unlike the cut down cellos that were originally made on the large form.
The 'Batta-Piatigorsky' Stradivarius cello of 1714
With the original cellos, the work and varnish are extraordinary! Much larger areas of original varnish are visible. The f holes and purfling are beautiful. The scrolls are amazing! And there is an obvious artistic concept that ties the whole instrument together. Ok, I admit it. I love cellos. And I really love Stradivarius' cellos!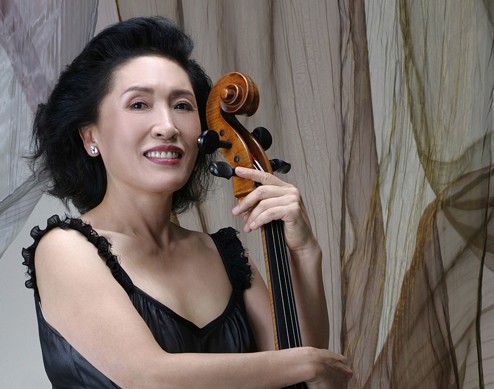 Myung-Wha Chung with her 'Braga' Stradivarius cello
Hear Myung Wha Chung playing her 'Braga' Stradivarius cello with her sister, violinist Kyung Wha Chung
` Gregor Piatigorsky playing his Stradivarius cello
Yo Yo Ma playing his Stradivarius cello
Bernard Greenhouse playing on his 'Paganini, Countess of Stainlein' Stradivarius cello of 1707
Scroll of an Antonius Stradivarius cello circa 1730
Side view of a Stradivarius decorated cello circa 1688
Excellent references for further reading are the books written by Stewart Pollens on Stradivari, Charles Beare's book for the Antonio Stradivari Cremona Exhibition of 1987, and the Hills book on Antonio Stradivari.