By Stefan Aune and Andy Fein of
Fein Violins
George Bridgetower
Classical music has had an image of being mainly white people's music. Unfortunately, this has been fostered by Euro-centric orchestras and organizations for hundreds of years. But that image is not entirely true and never has been. This blog post will feature some of the finest historical musicians of color, a few contemporary musicians of color, and a commentary on the current of racism that has damaged classical music for far too long.
"Juba" by Florence Price, featuring-
Gabriela Diaz, violin Mina Lavcheva, violin Ashleigh Gordon, viola Seth Parker Woods, cello
"Vienna Philharmonic is an orchestra of white men playing music by white men for white people"
- Werner Resel, former Vienna Philarmonic Chairman
We recently featured a blog on the Vienna Philharmonic
, an orchestra known for it's consistently sexist and racist hiring practices. Various representatives of the orchestra have contended, in response to allegations of discrimination, that the orchestra performs an essentially European art-form - classical music - and thus should be composed of individuals (men) of white-European ethnicity. To contend that this is the case in 2012 is clearly absurd, but has that ever been true? A quick look at the history of classical music will show, in fact, that white-European men have never been the exclusive creators or performers of classical music and the fact that they constitute a majority has everything to do with cultural inequalities and nothing to do with inborn characteristics.
Sheku Kanneh-Mason plays at the Royal Wedding of Prince Harry and Meghan Markle
In 1996, Vienna Philharmonic flutist Dieter Flury argued that:
From the beginning we have spoken of the special Viennese qualities, of the way music is made here. The way we make music here is not only the technical ability but also something that has a lot to do with the soul. The soul does not let itself be separated from the cultural roots that we have here in central Europe. And it also doesn't allow itself to be separated from gender. So if one thinks that the world should function by quota regulations, then it is naturally irritating that we are a group of white-skinned male musicians, that perform exclusively the music of white-skinned male composers. It is a racist and sexist irritation. I believe one must put it that way. If one establishes superficial egalitarianism, one will lose something very significant. Therefore, I am convinced that it is worthwhile to accept this racist and sexist irritation because something produced by a superficial understanding of human rights would not have the same standards.
In essence, Mr. Flury contends that "a superficial understanding of human rights," his snide dismissal of criticisms that the Vienna Philharmonic excludes players based on the color of their skin, rather than the quality of their playing, is secondary to the supposedly unique, inborn qualities of white-European performers. His repeated references to the "soul" of the music and performer, something that "does not let itself be separated from the cultural roots" of Central Europe, emphasizes that for Mr. Flury classical music is an outgrowth of an essentially European "soul" that cannot be accessed, understood, or realized by individuals from different cultural and ethnic contexts.
Samuel Colerdige Taylor's "Hiawatha's Vision"
I won't go so far as to argue that Mr. Flury and other members of the Vienna Philarmonic that have expressed similar opinions are white supremacists. The Vienna Philharmonic has been evolving since 1996 when Mr. Flury released the above statement, and superstar Venezuelan conductor Gustavo Dudamel recently spent some time leading the orchestra. Nevertheless, the orchestra remains an extremely homogeneous entity, and anyone willing to argue that classical music is essentially "white-European" finds themselves in questionable company. It has long been an argument of white supremacists, nazis, neo-nazis, and racial separatists that "classical music," the music of "white people," is inherently more sophisticated, complicated, and valuable than the musical traditions of Africa, Asia, South America, or the Middle East, thus proving the innate superiority of the "white race."
Obviously, I reject that contention outright, and I also reject the contention that classical music can be more perfectly realized by an orchestra made up of exclusively white-European male performers. Classical music is an ethnically diverse landscape, period. The racial politics of classical music is not perfect - nothing is - but performers, soloists, conductors, administration, staff, and audiences come from every conceivable background. Off the top of your head, think of the world's most famous soloists and conductors: for most people not even a majority of the top names will be ethnically white-European. Arguments for the aesthetic and musical superiority of an all-male, white-European orchestra are outside the boundaries of reality. They also do not hold any historical weight, as the history of western orchestral music is full of gender and ethnic diversity. White-European men aren't the sole progenitors of the classical music canon, nor have they consistently remained the exclusive top performers.
Violin Soloist Regina Carter
World renowned conductor Zubin Mehta
Sadly, a composer named Joseph Bologne, later known as Chevalier de Saint-George, has all too often flown under the radar of classical music fans. Bologne was born on the Caribbean island of Guadeloupe to Nanon, a former Wolof slave, and a French plantation owner named Georges Bologne de Saint-George. As a student Chevalier excelled at fencing, composing, and the violin, and he spent his early adult life living large in French high society on a generous inheritance from his father. Chevalier spent time as the composer and conductor for the Marquise de Montesson, the maestro of the Concert des Amateurs, and the director and conductor of the Concert de la Loge Olympique. While conducting the Concert de la Loge Olympique he leads the orchestra in commissioning and premiering 6 symphonies by Joseph Haydn, which were enthusiastically received.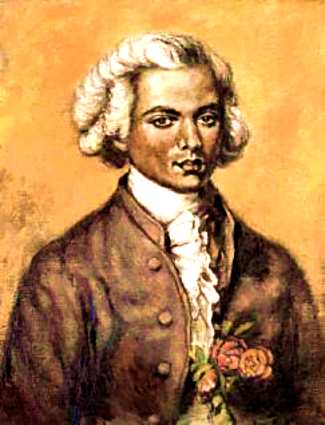 Chevalier de Saint-George
Chevalier's musical career came to an untimely end shortly after he was awarded the coveted position of Director of the Royal Opera of Louis XVI. Three Parisian divas petitioned the Queen, arguing that it was beneath them to work under a "mullato," and the appointment was subsequently canceled. With his musical career sabotaged by the racism of the Parsian performers, Chevalier continued his exploits in the world of professional fencing. He would also go on to a celebrated career in the military, becoming the first black Colonel in the French army. Due to his background as a member of the French elite, Chevalier was imprisoned during the French Revolution for 18 months, and he was unable to reignite his musical career upon release, falling into unfortunate obscurity. Chevalier's works include many concertos, sonatas, symphonies, and quartets. He was certainly a crucial part of Europe's classical community and is often referred to as "The Black Mozart" for his skill as a composer. This celebrated musician of West African and French heritage certainly defies the assumption that classical music composition was (or is) a purely white-European enterprise.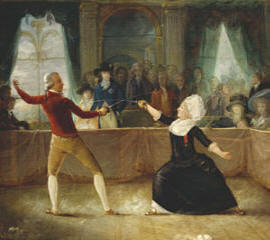 Chevalier de Saint-George Fencing
Nor were the great performers of the classical era exclusively white-European. One of the most famous violin soloists of Beethoven's time was
George Bridgetower
, whose father was of African descent via the West Indies. Bridgetower emerged as a virtuoso young violinist, performing in Paris, London, Bath, and Bristol. His music education was bankrolled by the Prince Regent George IV, studying with a diverse group of the European musical elite. Bridgetower would go on to perform over 50 London-area concerts from 1789 to 1799, including one performance attended by Thomas Jefferson and his family.
In 1803 Bridgetower performed with Beethoven, who was so impressed with the violinist that he dedicated his Violin Sonata No. 9 to Bridgetower - "sonata per un mulattico lunatico." Bridgetower and Beethoven premiered the work together on May 24, 1803, to critical acclaim. Sadly, the two had a falling out over alleged insults Bridgetower made to a friend of Beethoven, and the composer retroactively changed the dedication of the violin sonata to Rudolphe Kreutzer, subsequently dooming Bridgetower to obscurity (the piece is now famously known as the Kreutzer Sonata). Ironically, Kreutzer never performed the work, as he found it too difficult to play. Bridgetower continued his musical career, performing with the Royal Philharmonic Orchestra and composing several original works. This non-white European certainly defies the ethnocentric beliefs of men like Werner Resel. Bridgetower was a European musician, but his ethnic heritage was both white-European and African, and he performed classical works at the highest levels - high enough that Beethoven himself dedicated one of his most famous works to Bridgetower. The fact that there weren't more African-descended soloists during Beethoven's time has everything to do with the effects of the transatlantic slave trade and racism, and nothing to do with the ability of non-white musicians to perform classical music at the highest of levels.
Beethoven
Romantic-era composers built upon the legacy of Chevalier, further eroding the argument that orchestral composition is made by and for white-European audiences. During the 19th-century French composer, Camille Saint-Saëns traveled extensively in Egypt and Algeria, incorporating African melodies and folk tunes into his own very famous works. The Vienna Philharmonic itself has recorded works by Camille Saint-Saëns, and I wonder how they feel about the distinct influence African music had on the composer. London based composer Samuel Coleridge-Taylor, whose father was from Sierra Leone, was unappreciated during his time but has since been recognized as an excellent composer. His violin concerto and chamber works blend classical forms and African music, making Coleridge-Taylor perhaps the most visible black Romantic-era composer. He is often compared to the great Gustav Mahler. Lastly, Antonín Dvořák's "New World Symphony" is a conscious imitation of African-American themes and melodies, composed while Dvořák was living in New York City.
Samuel Coleridge-Taylor
In the last analysis, racial and gender inequalities throughout the history of classical music are a question of access rather than innate ability. Individuals like Chevalier de Saint George, Samuel Coleridge-Taylor, and George Bridgetower erode the argument that classical music is an exclusively white-European cultural enterprise. They show that individuals from any background can succeed in the western musical tradition, and they also show that the western musical tradition is not nearly as culturally homogeneous as many would argue. Our priority should be making music of all traditions accessible to anyone and everyone because the sad fact is that music education is not readily available in all parts of the world. Venezuela's ground-breaking "
El Sistema
" music education system is a testament to the fact that if you put instruments into the hands of children they will grow into incredible players. Music of all kinds, including western classical music, can be performed, created, and enjoyed by individuals and communities from all backgrounds. This is the beauty of music, and I have no patience for individuals or institutions harboring antiquated beliefs about the superiority of white-European performers or composers. These are beliefs based on racism and a fundamentally incorrect view of musical history.
Would you like to support Diversity in Classical Music?
The Sphinx Organization
is probably the most active organization in this area. Sphinx supports classical musicians of color from your students to helping to launch young professionals' careers.