By Andy Fein, Violin Maker and Owner, Fein Violins, Ltd.
In this era of so many great women violin soloists,
Anne-Sophie Mutter
,
Rachel Barton Pine
,
Hilary Hahn
,
Lara St. John
,
Anne Akiko Meyers
,
Sarah Chang
,
Midori
,
Nadja Salerno-Sonnenberg
and many others, it's hard to imagine a time when being a woman violinist and trying to make it as a soloist was very, very difficult. Solely because you were female!
That time was not very long ago. The first half of the twentieth century was a rough time for women violinists and it stayed that way at least through the 1960s!
Erica Morini was one of the pioneer female violin soloists. Born into a very musically inclined Jewish family in Vienna in 1904, Erica entered the Vienna Conservatory as one of its first female students at age seven. She studied with the great teacher Otakar Sevcik. If you're a violinist, you probably have spent many an intimate moment with Otakar Sevcik's
Violin Studies.
Erica Morini made her Vienna stage debut at age 12. It resulted in invitations to solo with the Leipzig Gewandhaus Orchestra and the Berlin Philharmonic Orchestra.
In 1920, Erica came to the U.S. for the first time and played four highly praised recitals at Carnegie Hall. From New York she embarked on a highly successful U.S. concert tour.
Maud Powell, a pioneer American female violin soloist, had passed away in 1920 and stated in her will that her great
Guadagnini
violin
"must be given to a great artist"
. Maud Powell's husband heard Erica Morini and almost immediately presented her with his late wife's violin.
Sir Yehudi Menuhin holding Maud Powell's Guadagnini
Earlier, Erica's father had purchased the 1727 'Davidoff' Antonius Stradivarius violin. The 'Davidoff' Stradivarius was the violin that Erica loved throughout her life.
The Morini Stradivarius, the 1727 'Davidoff' Stradivarius
The 1727 Davidoff Stradivarius violin
After the U.S. concert tour, she returned to Europe and Vienna and continued to concertize. When the Nazi takeover of Austria occurred in 1938, Erica Morini luckily escaped to her friends and patrons in New York.
Erica Morini playing the 3rd movement of the Bruch Violin Concerto in 1963
Through the 1940s and 1950s Erica Morini played with almost every major orchestra and gave recitals throughout the world. By the 1960s Erica had developed heart ailments and other health problems. She continued to play with such enthusiasm that her doctors were afraid she would die on stage. That fear is
not without precedent.
Erica Morini gave her last concert in 1976.
Erica had become fairly wealthy during her long career and retired quite nicely, but not without bitterness. She once said about her music career, "No one wants women violinists". (Thankfully that has changed! Tremendously!) In retirement she enjoyed her close friends, her husband Felice Siracusano, her brother and sister, and her beloved Stradivarius violin.
Erica lived until 1995. In the month or so before her death a strange and disturbing theft happened. Her beloved (and very valuable!) 1727 'Davidoff' Stradivarius violin was stolen from her apartment while she lay in a hospital bed! In a very humane and loving way, her friends and family decided not to tell her about the theft.
Even more strange, the thief must have had keys to her apartment and the cabinet where she kept her violin. There was absolutely no sign of forced entry. The violin has not yet been recovered. It is listed as one of
the FBI's Top Ten Art Thefts
.
In a lesson on how small the violin world is, the violin maker/repairer that Erica sought out in her later years to maintain her Stradivarius, Brian Skarstad, is a fellow Wesleyan University alum. Brian and I worked in a very rudimentary instrument workshop course at Wesleyan. After graduation, he went on to the Violin Making School of America in Salt Lake City. There is a wonderful play,
The Morini Strad
by Willy Holtzman (who happens to be another Wesleyan alum). Much of the play centers on the relationship between Brian, Erica and her violin.
I think it's a horrible travesty that this wonderful violin has now been out of the public's ears and eyes for close to twenty years. One of the beautiful things about owning any great instrument is sharing the history, beauty, and sound of it with an audience. When an instrument is stolen, especially one as well known as the Davidoff Stradivarius, none of those things can happen. What possible purpose does the holder of this stolen property have? He or she can not share it with the public and can't even maintain it. Any violin maker/restorer would recognize this violin and would surely want to return it to its owners. It is time for the holder of this beautiful violin to return it.
If you have seen the Davidoff Stradivarius violin or you know where it is,
CONTACT THE FBI
.
I'm not kidding.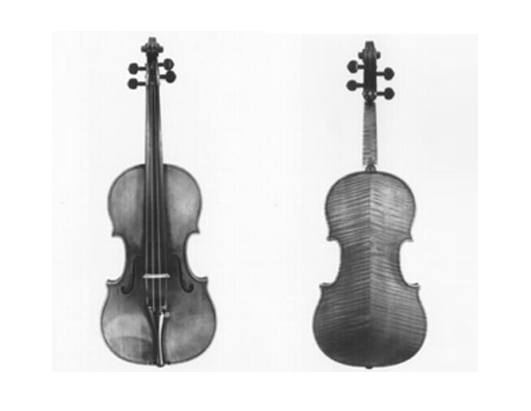 Have you seen me? The 1727 Morini/Davidoff Stradivarius violin
A small spelling note: Davidoff and Davidov are both accepted spellings. They refer to the great Russian cellist Karl Davidoff who owned that violin and the very wonderful Davidoff Stradivarius cello (currently played by Yo-Yo Ma). I have used the Davidoff spelling here to conform with the FBI's listing. The venerable magazine
The Strad
uses the Davidov spelling.
The New York Times ran a very informative
obituary
of Erica Morini.
The Jewish Women's Archive has a very informative article on
Erica Morini
.