By Stefan Aune of Fein Violins
Alisa Weilerstein is an internationally renowned cellist and a 2011 MacArthur Fellowship award winner. This award, given each year to between 20 and 40 U.S. residents, is known colloquially as the "genius award," and is presented to individuals of any age or field that "show exceptional merit and promise for continued and enhanced creative work." Alisa certainly fits these qualifications, both for her exceptional skills as a cellist and her drive to collaborate and work on new music with contemporary composers.

© Decca / Harald Hoffmann
Born to musical parents (her father is the 1st violinist of the Cleveland quartet and her mother is a well known pianist), Alisa picked up the cello at age 4, and made her debut at the age of 13 with the Cleveland Orchestra. In addition to her orchestral work she plays in the Weilerstein Trio with her parents, which resides at the New England Conservatory. Eschewing the typical route followed by most musical prodigies, Alisa went to Columbia University and received a bachelor's degree in Russian history, at the same time keeping up a hectic performance schedule.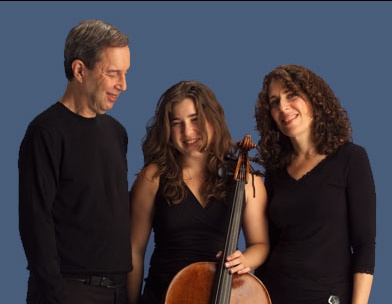 The Weilerstein Trio
Called "a tireless advocate for contemporary music" by the MacArthur Foundation, Alisa has worked closely with many contemporary composers such as Osvaldo Golijov, Lera Auerbach, and Joseph Hallman. In 2007 she performed the premiere of Osvaldo Golijov's cello concerto
Azul,
based on the work by Pablo Neruda, and has been actively involved in many other projects with contemporary composers. She performed the world premiere of Auerbach's 24 Preludes for Cello and Piano at the Caramoor International Music Festival and the premiere of Hallman's Cello Concerto with the St. Petersburg Chamber Orchestra. Alisa has also performed with the Berlin Philharmonic, the Chicago Symphony Orchestra, the Orchestre National de France, the Boston Symphony, and the New York Philharmonic. She plays on a 1790 William Forster cello that she says has a "rich, wonderful sound... Everyone who has heard it thinks it's a Strad or an Amati."
In 2009 Alisa was appointed the artist-in-residence at the Cleveland Institute of Music, and she has a recording of Edward Elgar's Cello Concerto forthcoming on Decca Classics. It's easy to see why Alisa was chosen by the MacArthur Foundation to receive a genius award - she combines a huge talent for the cello with a drive to explore the boundaries of music and work closely with contemporary composers. She will certainly put the generous monetary award from the MacArthur Foundation to good use, and we will all benefit from some exciting performances and new pieces of music as a result. You can see her official MacArthur Award video below, and check out the full list of this year's MacArthur Fellows
here
.
Are you a cellist or interested in becoming one? Take a look at our
Fine Cellos
!