By Stefan Aune
The Minnesota Orchestra was founded as the Minneapolis Symphony Orchestra in 1903, the same year of baseball's first "World Series." The orchestra made it's first of many trips to Carnegie Hall in 1907, and was one of the first orchestras to be heard nationally over the radio, in 1923. The orchestra thrived in the 1950's and 60's under music directors Antal Dorati and Stanislaw Skrowaczewski, releasing classic LP's that have since been re-released as compact discs.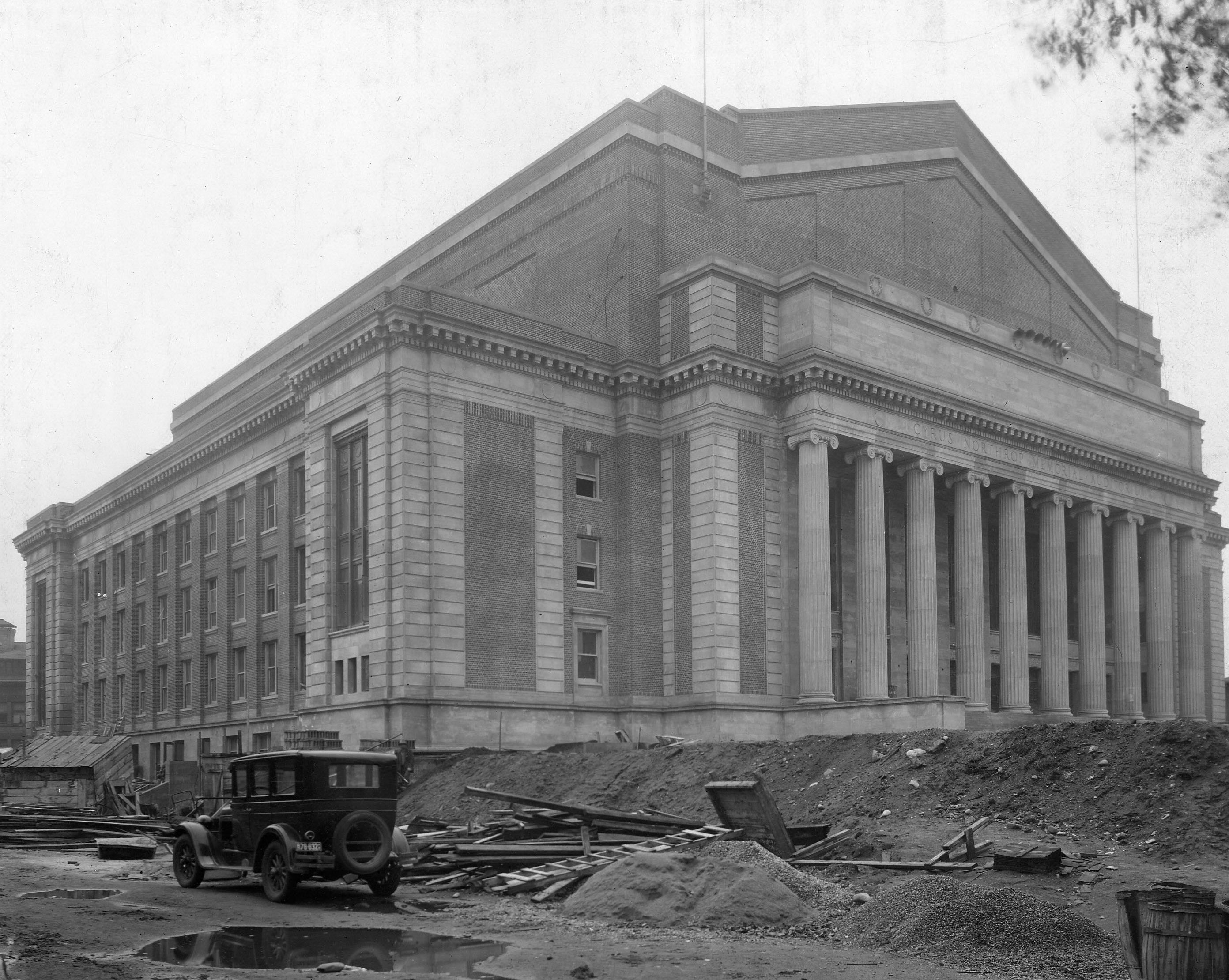 Northrop Auditorium, the Minnesota Orchestra's home, until 1974
In 1968, the orchestra changed its name to The Minnesota Orchestra, and six years later moved into its new home, "Orchestra Hall," located in downtown Minneapolis. Orchestra Hall remains one of the city's primary artistic attractions, regularly bringing in enthusiastic audiences to hear performances of both classical and contemporary music.
Orchestra Hall
In 1980, the orchestra inaugurated it's annual summer music festival, originally known as "Viennese Sommerfest" and now known as "Sommerfest." The festival consists of a four week period of concerts around midsummer, each performance followed by free live music on the Orchestra Hall terrace.
Osmo Vänskä
The Minnesota Orchestra is currently lead by acclaimed music director Osmo Vänskä, who began his tenure in 2003. Vänskä has presided over numerous recordings, including works by Tchaikovsky, Bruckner's Fourth Symphony, and a five-disc cycle of Beethoven's symphonies. The New York Times reported that the Beethoven series "may be the definitive cycle of our time," and the orchestra is currently working on a cycle of Beethoven piano concertos. The orchestra is also working on recording all seven of Sibelius' symphonies. The Minnesota Orchestra enjoys a reputation as being one of the premiere symphony orchestras in the world, and Mr. Vänskä has helped add to that legacy.
The Minnesota Orchestra
The orchestra has a great 2012 season planned, including exciting Pops performances with Iempo Libre, Bill Cosby, Max Raabe and Palast Orchester, Bobby McFerrin, Natalie Merchant and Ann Hampton Callaway. February will see the orchestra performing works by Prokofiev and Tchaikovsky, so make sure to check out the calendar at
http://www.minnesotaorchestra.org/
for upcoming events. If you attend one of the many schools located in the Twin Cities be sure to check out the special "rush" tickets that are available to students. The Minnesota Orchestra also has many outreach programs that help both young and old learn about and enjoy music in its many forms. The
"young people's concerts"
are a great way to introduce children to the world of classical music, and help guarantee that the Minnesota Orchestra will continue to receive the support and appreciation it deserves for many years to come.