Written by Andy Fein, luthier at Fein Violins
and Angie Newgren, edited by Amy Tobin
There is a triangular relationship between a violinist, their instrument and their bow. Often times, we think of a certain "sound" when we think of a particular player. Much of that sound is defined by the instrument they play.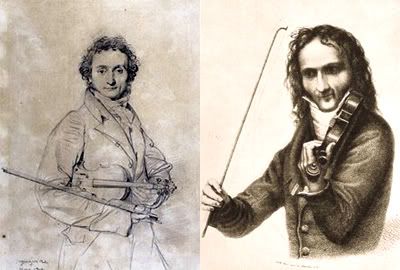 Niccolo Paganini & his Guarnerius del Gesu violin, "Il Cannone"
Paganini and his violin, a Guarnerius del Gesu named "Il Cannone" (the Cannon!), defined each other. Paganini was one of the first soloists to play a del Gesu. Its huge sound and fast response became Paganini's "sound". Made in 1742 (the Hills' attribution, others say 1743), late in del Gesu's life, the violin is preserved, as it was when Paganini played it, by the city of Genoa, Italy.
Guarnerius del Gesu "Il Cannone"
Before Paganini owned "Il Cannone" he owned an Amati violin. He lost his Amati when he was 15 years old due to a gambling debt he had to pay in 1797. He was, however, presented with a neglected Guarnerius del Gesu violin, from a Monsieur Livron. This violin stuck with him throughout his lifetime, and he named the violin "Il Cannone" for its powerful sound.
For a Cremonese violin of its time, it is a large instrument. Most Stradivaris and Guarneris are about 352mm in length (about 13 7/8"), while Il Cannone is 354mm. 2mm may not seem like a big difference, but on a string instrument such as a violin, that small amount can feel huge! It is also wide and has a slightly longer than average stop length. (The stop length is the length from the top edge of the body, by the neck, to an imaginary line that runs between the inner notches of the f holes where the bridge is usually placed.) This makes the violin feel big when you play it.
Paganini brought his violin to luthier Jean Baptiste Vuillaume's workshop (the best in the world!) for improvement and tonal adjustments. Today, we are still not sure what Vuillaume altered on Paganini's instrument to improve its sound, but he probably put in a new bass bar and raised the neck angle. Throughout much of the 19th century, Vuillaume did lots of work for soloists like Paganini to create better sound from their instruments, even through the smallest adjustments. Vuillaume repaired the violin, and he also made a replica of it. The replica was so precise that Paganini himself could not identify which was the real one until he played them. Paganini's student, Camillo Sivori, played on the replica.
"Il Cannone" Scroll
Both violins can be seen today in Genoa's town hall. Throughout the years, "Il Cannone" has remained in great condition, so many people have had an opportunity to play it. Every two years the city holds a contest -
The Premio Paganini
- for young players between the ages of 16 and 30. The winner, besides receiving prize money and recording contracts, gets to play on "Il Cannone" for their performance at the end of the competition. Besides the young winners of the concert, every month the curator plays the violin.
"Il Cannone" also gets to be played by special request. Jazz violinist Regina Carter, for example, has played this violin many times, for performances and recordings, including a CD dedicated to Paganini entitled
"Paganini: After A Dream."
In my opinion, this is how a fine and historic instrument should be preserved. The "Il Cannone" is displayed and cared for meticulously, but the wonderful people of Genoa know that a violin was made to be played. They make this beautiful violin available for great musicians to play. Often!
Here is a link to
Shlomo Mintz playing
on "Il Cannone," one of
Salvatore Accardo playing
, and one of
Eugene Fodor playing
on the "Today Show" - all playing "Il Canone". A big thank you to the
City of Genoa, Italy
for preserving this violin and making it available to be played and heard.
Are you a violinist or interested in becoming one? Take a look at our
Fine Violins
!